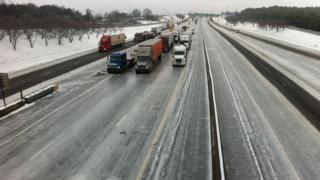 Due to severe weather all shipments are delayed 2-3 days. You will be sent your shipment's tracking information the very moment it ships. Most shipments are sent via UPS. Click here to access UPS shipping information.
This severe weather event has literally crippled the southeast. Most businesses, even Wal-Mart, were closed for most of the day yesterday and are open limited hours today and tomorrow.
UPS announces "Winter Weather Advisory for Southeastern U.S."
Click here for more.
WSBTV announces "Ice Cripples Metro Roads, Highways Are 'Impassable' ".
Click here for more.
The good news is that the road conditions are not going to worsen and by Monday everything will be returned to normal.
We appreciate your patience and continued loyalty during this time and apologize for any inconvenience this weather event may cause you.
Limited Phone Support

Due to impassable roads many of our staff are unable to get to the office. We are setting up call centers from various remote locations to provide you with the best service possible under the circumstances. We also have staff available online to answer your questions. Please use the contact page to communicate with us whenever possible. If you need a call back, please indicate so and we will call you back as quickly as humanly possible!
Above and beyond customer service!
Whether you are a new customer or someone who has been with us for a while, we guarantee satisfaction. After over 20 years in the business helping people find the appropriate products at the lowest prices, we continue to lead the industry! We are capable of beating any competitor's advertised price, just call! Our customer service staff has over 50 years of experience, plus over 90 years of combined wheelchair use experience. We look forward to working with you!