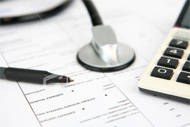 We will assist you with insurance, where applicable. This includes workman's compensation, V.A. claims, and other potential insurance.
If you are not sure if the item needed is covered please call 770-554-5033. Prescriptions and/or letters of medical necessity are usually required for 3rd party reimbursement.
Please note that it is your responsibility to provide us with the appropriate paperwork.