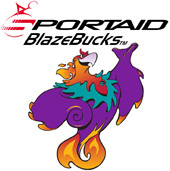 A Reward Program Dedicated to
BlazeSports America Clubs, Their Team Members, and Supporters

Sportaid BlazeBucks™

BlazeSports members can earn Sportaid BlazeBucks™ on all purchases from Sportaid. Customers receive an automatic 100 BlazeBucks on all chair orders, regardless of price or manufacturer and ten percent on all other Sportaid product orders over $175. Sportaid BlazeBucks™ are redeemable on a dollar-for-dollar basis on future Sportaid purchases. Sportaid BlazeBucks™ are redeemable for up to one year from the date of purchase. See additional rules for more information on this exciting program.

Two Easy Steps to Participate
Identify yourself as a BlazeSports club, coach, athlete, or member on the phone. For online orders. Please indicate the name of your club in the "Organizational Affiliation" box.

Receive your Sportaid BlazeBucks™ coupon for use on future purchases.

Program Rules
Participation in the Sportaid BlazeBucks™ Program is limited to registered BlazeSports Clubs, as well as individual supporters of BlazeSports Clubs of America and BlazeSports Georgia (including members, coaches, and athletes). For information about the BlazeSports Clubs of America programs, see www.BlazeSports.org.

Sportaid BlazeBucks™ are awarded at a rate of 10% of purchase price, exclusive of shipping charges or taxes.

Minimum purchase amount to earn Sportaid BlazeBucks™ is $175.

Maximum amount of Sportaid BlazeBucks™ awarded is $100 per order.

Multiple Wheelchair or Handcycle purchases receive $100 in Sportaid BlazeBucks™ per item.

Payment in full is required for you to receive BlazeBucks™.

The purchase price amount qualifying for BlazeBucks™ is calculated in U.S. dollars and does not include shipping and handling charges, delivery charges, taxes, interest, or late charges.

Sportaid BlazeBucks™ cannot be earned on the same purchases where BlazeBucks™ are being redeemed.

Your Sportaid BlazeBucks™ coupon will be sent to you when your order is shipped.

You may redeem your Sportaid BlazeBucks™ coupons for up to one year from the date of purchase. For example, if you have 100 Sportaid BlazeBucks™ and spend 85 on new tires, you will have 15 Sportaid BlazeBucks™ left for later purchases until the expiration date on the coupon.

Your Sportaid BlazeBucks™ coupon is not transferable; however, individual club members are allowed to donate their coupons to the BlazeSports club with which they are directly affiliated.

Information & Records
The Sportaid BlazeBucks™ program is effective January 1, 2004. Sportaid will assign a tracking number to every coupon issued in this promotion; however, customers are encouraged to keep copies of their invoices as proof of purchase. Sportaid can not be held responsible for any loss of Sportaid BlazeBucks™ coupons where no proof of purchase is available.
Participants may request a written Sportaid BlazeBucks™ balance statement up to two (2) times per year. Additional statements are available for a $3.00 records retrieval fee per statement.
If the Sportaid BlazeBucks™ program is discontinued for any reason, customers currently holding Sportaid BlazeBucks™ will be entitled to continue to redeem them until the expiration date.